Hello everyone,
I hope you guys are enjoying the bulls and bearish behavior of cryptocurrency market. You might be reading this post via a smartphone or some computers. Looking a decade back we can see how far we have come whether it is about computers, crypto or any other sort of technology. We started at local and now we are global. The Internet has shaken up everything, every possible gadget that can transmit data or manipulate it. If you are born around 90's then you can understand that how we became from offline to extremely online. Today we are going to look at a glimpse of the Internet of things! Whether it is banking or dating everything in these days are Internet-oriented, without internet an app or gadget is incomplete or boxed. Internet things are something out of the box and more global. Tons of gadgets are available some are extremely useful and some are just built to discard. No matter what or why the Internet has made us Human v2.0
We need display! We need a screen!
Apple is the tech giant and they made us display-addicted! After the launch of iPhone's, we thrive for more quality and more bigger display screen. Even though we don't need but still anything which is screen and internet oriented is cool!
But the bigger screens has changed our perspective on manipulating data and information. The more the bigger screens the more information in a scope.
Scrolling up and down in a feature phone kills the mood of reading even though if it is latest. Bigger screen has reduced the unwanted interruptions and has affected our unconscious brain.
Back in 2012 bigger screen smartphones became a trend however we find ourself more comfortable in a 5.5′-6.5′ range. And it changed the way we look at the internet.
Android was the much-needed thing which entered on the right time and changed the way we communicate with our owned self-assistant – smartphone.
Power in my hands!
Right after 2009, IOT came in the existence. However, IOT was there from the start but the form in which it is present today is more helpful and simplifying our life.
Computers became smaller and smaller, evolved in terms of sensors and actuators. Cost fluctuated but in a downward trend increased the application and deployment of it. i456 one of the Intel's chipsets which was costs around $2500 back in 1980 and now same computational power oriented chipset is available around $1 or so.
Sharp fall in component prices increased the availability which in turns made us integrate such chipsets in every possible gadget.
We have so many alternatives for the same job in terms of gadgets that we have to think about which one to opt for. We have fitness tracking app which uses sensors and GPS but that doesn't mean we will carry a laptop, tablet or even a smartphone which is suitable for the job but instead we carry a wristband which is more comfortable, compact and easy to use.
We are living Iron man's life! Anything can be built now as most of the common resources are public and affordable.
Internet on fire!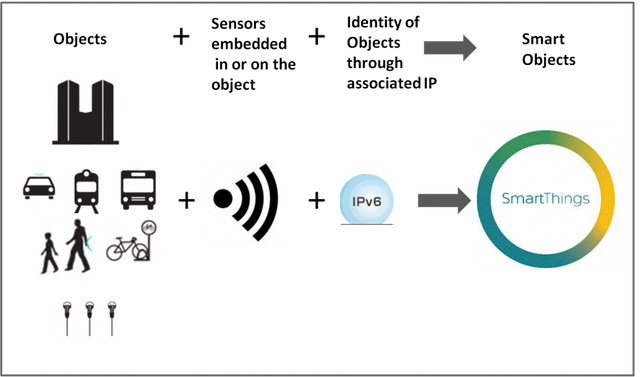 In general terms we define IOT as "PHYSICAL OBJECTS + SENSORS,ACTUATORS + INTERNET = INTERNET OF THINGS!"
But there is an exception, everything which is connected to the Internet or have access to any network can't be considered as IOT unless and until it is processing or manipulating data. So it is not like only giving access to the Internet but to process, store and manipulate using the internet.
Based on the current trend only 20% components are custom-build whereas 80% are directly available on the market and are ready to go Internet-Driven! The availability of components to deploy an Internet application is the backbone of the whole IOT perspective.
But there are few problems that are causing an interruption in the development and that is the availability of the Internet itself. Only 47% of the total population has access to the internet which shows that rest 53%, the half world is still pretty much unknown to the Internet and its power.
So we are at the point where we can consider Internet has covered a lot of aspects but at the same time we haven't touched every part which still left us in the midst of revealing the potential of internet alongside reality and humans.