MANY TIMES WE WORK HARD🤕🤕 BUT SOMETIMES WE WORK SMART😎😎😎😎
JIO is a part of Reliance group led by Mukesh Ambani. This part gives services to Telecommunication sector in India. Jio give's a huge competition to its rivals to survive in Indian Telecommunication Market.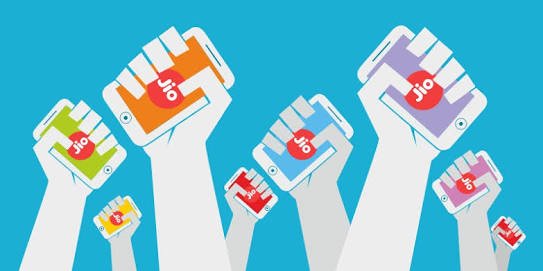 There was a time when data cost in India costs 5-10 USD /GB . The call rates were also hiked from 0.0023 USD to 0.0031USD or it may get more expensive on the time of roaming. It costs us around 2$ to recharge for roaming packs.
Companies like Airtel,Idea,Vodafone were looting the customers as Britishers were doing before Independence of India.
There was a trend after every 6 months or 1 year the cost was hiking. But this was not going to continue further more. Reliance Chairman Mr. Ambani understands the problems of customers. And made a powerful strategy to capture the whole communication market 😁😁😁😁.



Jio launched on 5 September 2016 and it gives the 1 year free service to customers. Calls were unlimited and data were also unlimited. This was a huge surprise for its rivals. Jio made 100 million customers in a short span of time. Then Jio launched its recharge pack and this also gave much more tension to its rivals. As it launched a 84 days recharge pack and the cost for unlimited calls and unlimited data for 3 months were just 5-7 $ . Therefore by this service customers and operators both were happy. The other companies ,now also they are struggling a lot to service.
Jio needs a huge customer base and customers needs cheap call rates and data packs. But there were no call rates , Calls were absolutely free and the data is also looking like free.
So work smarter not harder…………..
THANK YOU TO ALL TO GIVE YOUR TIME.